SALE
SAVE $40*
This Christmas
treat a loved one
to AncestryDNA®
Treat a loved one
to AncestryDNA®
Give the gift of unwrapping
their heritage
*CAD price includes taxes and excludes shipping.
Offer ends December 25, 2018 at 11:59 p.m. E.T. Terms apply.
Search records and build your family tree with a 14-day free trial† Start Free Trial
Ancestry® Gift Membership from
$64.99

**

This Christmas, give Ancestry Gift Membership and help a loved-one build their family tree. With access to millions of online records, they'll unwrap their family story.
**Offer ends 12/25. Gift memberships valid for new subscribers only
and not for renewals for current subscriptions. Terms apply, click
here
.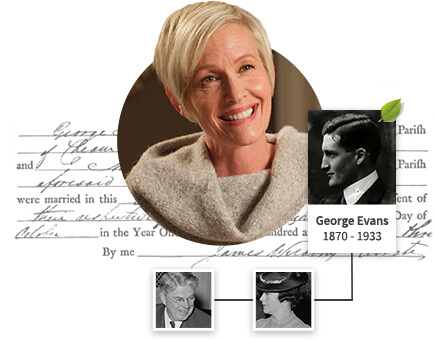 †Only one free trial per person. Free trial requires registration with a valid credit or debit card. Unless you cancel before the end of your free trial, your chosen membership will begin, and you'll be charged the relevant price. Your membership will automatically renew at the same price at the end of each membership period, unless you are notified otherwise. If you don't want to renew, cancel at least two days before your renewal date. Cancel by visiting the My Account section or by calling 1800 958 9073. See our Terms and Conditions for further details.
Ancestry
DNA

reveals the places you're from—and more.

With 2x more geographic detail than any other DNA test no one else connects you to as many places in the world or more living relatives around it.

Explore Ancestry

DNA
Explore Ancestry

DNA
Ancestry helps you understand your genealogy.
A family tree takes you back generations—the world's largest collection of online records makes it possible.
Learn more
Learn more
Use both and learn amazing things about…you.
Only Ancestry combines DNA results and the largest collection of records for the best insight into your genealogy and origins.
It just made me feel like I belong somewhere."
Joining forces with his twin, Jamil, the brothers uncovered fascinating stories about their ancestors. They both agree, "You feel like you know these people—you feel connected to them."
What are you? What are you? What are you?"
Lezlie's DNA results included African, European, and Asian. "It was great because it helped confirm what I knew in my gut… with a little surprise."
So I traded in my lederhosen for a kilt."
"So I decided to have my DNA tested, and the big surprise was we're not German at all," he says. And soon enough, Ancestry Hints led him to generations of Scottish ancestors.